Students, Marines buy toys
Hang on for a minute...we're trying to find some more stories you might like.
Student government members are working with Marines so needy families can have presents to give their children this holiday season.
This is the second year that student government members are involved with helping the Toys for Tots program, according to Senator Gretchen Shepard.
"We help buy, count, organize and distribute toys for kids," Shepard said.
Shepard said that, in addition to collecting toys from campus community members, student government members also host volunteering events.
She said the first of five volunteering events was a toy buy, held last Tuesday.
Shepard said 10 student government members and a few Marines purchased items at Toys R Us.
"We spent around $10,000 of the money that is from the Toys for Tot's account.
"We also helped them carry all of the toys in from the van to their storefront in the Johnstown Galleria," Shepard said.
Marine Master Sgt. Steven Hernandez, Toys for Tots' Johnstown coordinator, said he hopes to help at least 200 families from Somerset and southern Cambria counties with the toys purchased from the Tots' account.
Hernandez said he would help more families to be able to give presents to their children if he could.
"At the end of the day, every child should have at least a toy for Christmas," Hernandez said.
Hernandez said he prefers buying toys from stores that sponsor the Toys for Tots program. He said the program's volunteers also buy items from Wal-Mart and J.C. Penny Co.
"We have different organizations that assist us (by giving money). If they support us, we'll support them," Hernandez said.
Shepard said bins are to be placed throughout campus within the next few weeks, so Pitt-Johnstown students can donate toys to the program.
"We will always accept toy donations in the (student government) office as well," Shepard said. A sign posted in the Student Union reads that toys must be new and unwrapped.
Shepard said that a steak dinner hosted in December by Sodexo General Manager Kevin Dicey is to give attendees an opportunity to save a meal swipe, if they donate a toy to the program through student government.
She said the meal, which costs two meal swipes, would cost only one meal swipe and a toy donation.
Graduate Area Coordinator Brandon Ford said residence life staff are also helping student government collect more toys.
He said there is to be a competition among residence hall occupants to see which hall can collect the most toys.
"Whichever residence hall does, we're looking into setting up a pizza party for them," Ford said.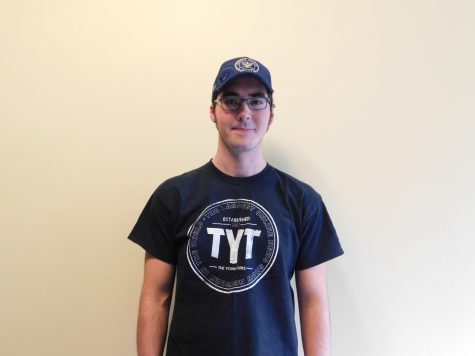 Matt Churella, News Editor

Graduated High School: 2016, Cambria Heights High School
Year: Junior
Anticipated Graduation Date: April 2020
Major(s)/Minor(s): Journalism
...