Wreath was placed to honor veterans
Hang on for a minute...we're trying to find some more stories you might like.
Over 30 people attended a campus ceremony Friday honoring military veterans at The Heroes Memorial by Whalley Chapel.
The ceremony started at 11 a.m. with the Pledge of Allegiance, followed by the national anthem, sung by Academic Affairs Assistant Vice President and veteran Kristen Majocha.
"I wanted to recognize the veterans here," Pitt-Johnstown President Jem Spectar said.
Spectar asked each veteran—both students and staff—who were in attendance to raise his or her hand.
"It is a day to honor veterans and a day for us to keep reminding ourselves of what being a citizen in a free and great country means.
"(It is) a day for us to keep working every day to justify that citizenship and justify the service of veterans," Spectar said.
Spectar then thanked everyone in attendance.
"Let us have a special day of honoring veterans," Spectar said.
Majocha asked Pitt-Johnstown Mountain Cat Veterans Program members and all veterans to join Spectar inside the memorial to lay a wreath beside a World Trade Center steel remanent.
The ceremony lasted about five minutes.
Student Affairs Vice President Shawn Brooks, who is involved in the veterans program, said he has the utmost respect for people who choose to serve in the United States military.
"We are honored to have veterans affiliated with this institution," he said.
"The Veterans Day celebration is just a wonderful reminder of the contributions that people have made," Brooks said.
Brooks said veterans are given accommodations for their needs. He said they are given housing accommodations and are offered the Heath and Counseling office staff's services.
"Any veteran who has any health-related need, we make sure they get the care that they need," Brooks said.
Senior Cenota Griffin said she thinks veterans are great for deciding to serve in the United States military.
Cenota said veterans who are willing to sacrifice their lives for the country, deserve to be recognized by the campus community.
"They have their day to be recognized for what they do," Cenota said.
One veteran who participated in laying the wreath with Spectar was Pitt-Johnstown student Cameron Carr.
"(Friday) was a very special and appreciative moment being able to take part on the veterans' ceremony with President Spectar," Carr said.
Carr said he was proud to have taken part in the ceremony.
"It's always refreshing to know that your school is honored to have you in their community and makes me feel even more proud to honor those who are veterans.
"This ceremony is a great part of (Pitt-Johnstown's) legacy and I hope it continues," Carr said.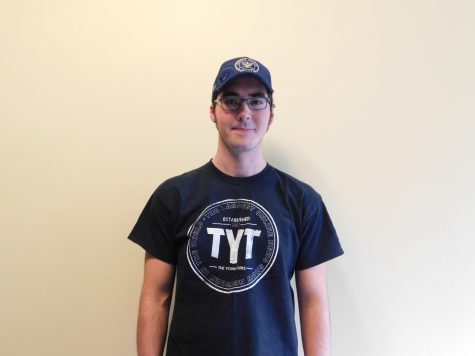 Matt Churella, News Editor

Graduated High School: 2016, Cambria Heights High School
Year: Junior
Anticipated Graduation Date: April 2020
Major(s)/Minor(s): Journalism
...