Log Cabin to cost too much
Hang on for a minute...we're trying to find some more stories you might like.
Pitt-Johnstown President Jem Spectar said at a Jan. 24 Faculty Senate meeting that the university's administrators are not going to fund the Alumni Association's Log Cabin project.
Spectar said estimated costs to renovate the Log Cabin had climbed so high that he decided to walk away from it.
Finance and Administration Vice President Amy Buxbaum said the Log Cabin was constructed in the 1970s, before the 1990 Americans with Disabilities Act, which set the standards for accessibility in buildings that are open for public events.
"The building's restrooms and entrance do not meet the standards for accessibility in that an individual in a wheelchair could not enter the building without assistance and would not be able to enter the restrooms, which are very small," Buxbaum said.
Buxbaum said that the Log Cabin is restricted to private events and the people invited to these events are the event sponsor's responsibility.
She said the Log Cabin cannot be used for university-sponsored events.
In 2011, the Pitt-Johnstown Alumni Association Board members began fundraising money for the Log Cabin project, which was estimated to cost $360,000, according to Buxbaum.
Buxbaum said Spectar met with Alumni Association Board members in August 2016 to propose that the university's administrators would provide any additional funding to the then estimated cost of $400,000.
She said it was made clear to Alumni Association Board members that the administrators would not move forward with the project if the budget exceeded $400,000.
Spectar said at last month's Faculty Senate meeting that the budget had exceed the estimated cost. He said the cost was exceeded by a range from $150,000 to $180,000.
According to Buxbaum, when a project exceeds a planned budget, there are four options:  reduce the scope of the project, add funding, put the project on hold for future funding or decide not to do the project at all.
"In this case the project cannot be reduced in scope and still meet accessibility requirements under the (Americans with Disabilities Act)," Buxbaum said.
Board member Luke Trotz said, although he was not at their last meeting, he thought members were still working toward updating Pitt-Johnstown's Log Cabin.
"To my understanding, this is something we're still trying to assist with," Trotz said.
Trotz said Alumni Association Board members agreed upon an email sent to Buxbaum containing 30 questions asking what the members could still do to renovate the Log Cabin.
He said they asked to receive a response by Feb. 5, but Trotz said he has not heard of any response as of Feb. 6.
"We're just trying to see what we can do to help."
Trotz said the project was to include remodeling the restrooms, sidewalks and adding a patio with nicer greenery.
Backroads literary magazine Editor-in-Chief Patrick Stahl said their Open Mic Night events were moved this semester to the Mt. Cat Club because he thought students would not want to walk to the log cabin in winter weather.
"Even for able-bodied individuals, the road leading down to the Cabin is in poor shape, and it can be abominable in the winter," Stahl said.
Stahl said he thinks the log cabin is not easily accessible nor easy for students to navigate inside.
"My opinion is that improvements to the road leading to the Cabin and to the restrooms in the Cabin would benefit all people who wish to attend Log Cabin events."
Buxbaum said the university's money is to be used to pay architect costs and to possibly add a sound system to the Log Cabin.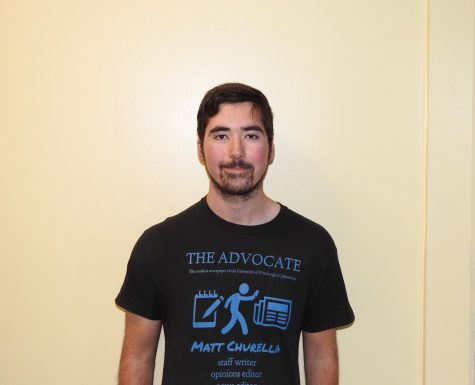 Matt Churella, Editor-in-Chief

Graduated High School: 2016, Cambria Heights High School (Patton)
Year: Junior
Anticipated Graduation Date: April 2021
Major(s)/Minor(s):...