Eligibility for scholarships discussed
Hang on for a minute...we're trying to find some more stories you might like.
Pitt-Johnstown students have until April 13 to complete an application to determine eligibility for targeted scholarships, according to a March 12 campuswide email.
Scholarships Director Jennifer Kist said some scholarships' requirements dictate the amount a student receives.
"Generally, once the student is selected based on criteria, the scholarship is posted to their account," Kist said.
She said that students can be eligible to receive more than one scholarship. Kist said, last year, about 500 students applied for targeted scholarships.
She said there are about 120 scholarships.
Kist said the scholarships' requirements are different, based on criteria.
"Some are extremely specific, while some are a little more general when it comes to criteria," Kist said.
Kist said a scholarship's requirements could be so specific that its eligibility requirements require a female student who came to Pitt-Johnstown from a single household, has graduated from a Philadelphia-area high school and is studying engineering.
Kist said there are also some scholarships that are not based on a student's geographic location or major.
Kist said she has a database that she works with to determine which scholarship a student is eligible for.
"Based on donor designation, I do a search for students who meet the criteria," Kist said.
Kist said, in addition to targeted scholarships, students—particularly freshmen—are eligible for merit-based scholarships, such as the Presidential Scholarship.
She said that it is possible for students to lose the scholarship's funding based on its eligibility criteria.
Freshman Chase Kuhn said he did not know about targeted scholarships, but that he planned to apply for the next academic year's scholarship funding.
"I'm trying to get as much as possible so I pay as little back as I can," Kuhn said.
Kuhn said he has a sports scholarship, and that he thinks students who come from low-income families should get as much scholarship money as possible.
"(Students who don't have much) should get more than somebody with a lot of money," Kist said.
A seminar was held March 27 at Blackington Hall where English literature instructor Tuangtip Klinbubpa-Neff spoke about scholarship opportunities for students who wish to study abroad.
Senior Emily Eutin said Pitt-Johnstown administrators offer an opportunity for special-education majors to study abroad in New Zealand for one semester.
"I'm really interested in New Zealand," Eutin said.
Klinbubpa-Neff said not many Pitt-Johnstown students pursue scholarships to study abroad.
She said she has only five to seven students seeking scholarship funds.
"Asking doesn't cost anything."
"(A student would) be surprised how much money (they could receive through scholarship opportunities)," Klinbubpa-Neff said.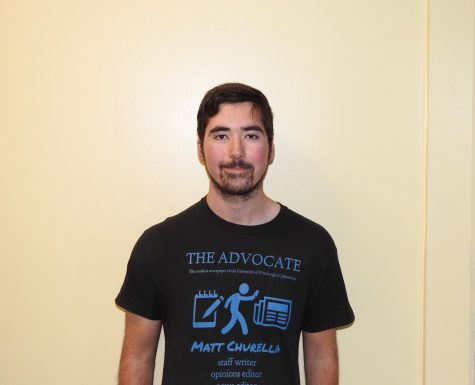 Matt Churella, Editor-in-Chief

Graduated High School: 2016, Cambria Heights High School (Patton)
Year: Junior
Anticipated Graduation Date: April 2021
Major(s)/Minor(s):...