One button to produce video here
Hang on for a minute...we're trying to find some more stories you might like.
A new one-button studio to help Pitt-Johnstown students with video production work is to be built on campus by the 2019 spring term's end.
Details are not clear about where the studio will be or how much construction costs.
Efforts to begin constructing a studio began when three communication professors applied for a grant from Pitt-Oakland's Provost Office during the fall 2017 semester. 
It was announced at an Oct. 3 public meeting that Patty Wharton-Michael, Diane Nicodemus and Paul Lucas were awarded a grant to construct the studio on Pitt-Johnstown's campus.
It is unclear how much of the cost to construct the studio was covered by the grant.
An Advocate reporter was told that the grant's information is not public record by the three Pitt-Johnstown Communication professors.
"I know that we aren't looking to disclose information regarding funding or costs," Lucas said.
An Oct. 29 email sent to Provost's email address was not returned by publication deadline. A phone call to the Provost's Office number to ask questions was unfruitful because no one was available.
Wharton-Michael, who developed an idea to build the studio, said the studio's planned design would allow students to insert a flash drive, push a button and record a video for class assignments.
She said students in her Introduction to Communication course should benefit from using the studio for class presentations.
"Students were applying mass communication theories to explore an issue and its implications for a democratic society. Students created a short, informational video to present to students in our class," Wharton-Michael wrote in an email.
"Although many students conducted quality research and had thoughtful contributions, they wanted to know more about video recording and access to more professional recording tools."
Humanities Division Chairman Michael Stoneham said that, although the studio's location has not been decided yet, he hopes that it will be housed in Biddle Hall.
Stoneham said he had written a recommendation letter for the three professors to secure a grant and that he is in favor of having the studio on campus for students to use.
Nicodemus asked that questions about the studio should be sent through email only.
"We are really excited about creating this professionally designed recording space for students," Nicodemus said.
Wharton-Michael said that, although the one-button studio is designed for simple use, there are many components interacting behind the scenes to make it possible.
"When the user presses the button, the application sends a command to a server that activates the lights, camera and audio," she said.
"Simultaneously, the button triggers the app to start receiving video and audio streams from the camera and sends the files to an audio mixer and video compression and finally to a Mac Mini.
"When the user presses the button for the second time, recording is ceased and the recorded content is stored on the flash drive in an mp4 format."
Wharton-Michael said faculty and students can reserve the studio through an online system once construction is finished.
"We believe there will be desire to use the space for a variety of interests, but academic purposes will be given first priority."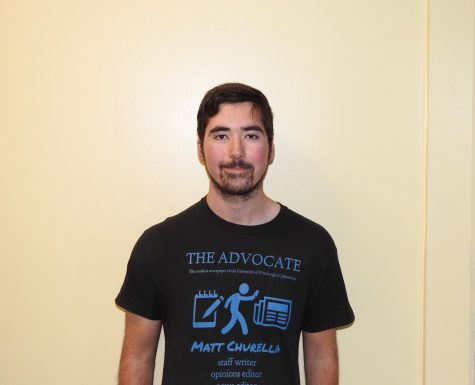 Matt Churella, Editor-in-Chief

Graduated High School: 2016, Cambria Heights High School (Patton)
Year: Junior
Anticipated Graduation Date: April 2021
Major(s)/Minor(s):...